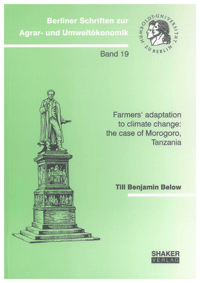 Till Benjamin Below

Farmers' adaptation to climate change: the case of Morogoro, Tanzania


Band 19

ISBN: 978-3-8440-1486-0

Price: 49,80 € / 62,25 SFR

Sub-Saharan smallholder farmers are expected to be severely affected by climate change. A better understanding of processes that shape smallholder farmers´ vulnerabilities and adaptation in the face of climate change is critical to develop well-targeted adaptation policies. The implications of climate change for smallholder farmers are currently assessed with two main approaches, top-down impact assessments and bottom-up adaptation studies. Top-down approaches use process-based models that are often associated with high uncertainty and may in turn lead to misinformed adaptation action. Bottom-up assessments draw on farmers´ existing implicit and explicit knowledge about the response to climatic stimuli and the conceptual thinking on socio-ecological vulnerability. Bottom-up assessments could significantly reduce the uncertainty resulting from coarse climate projections but they are constrained by lack of empirical evidence. The existing conceptual literature on socio-ecological vulnerability is mostly argumentative and not sufficiently substantiated by models or empirical findings. In particular, there exists a lack of conclusive scientific evidence on the determinants driving smallholder farmers´ adaptation to climate change based on methodological approaches and sample sizes that allow for rigorous statistical analyses.

Against this background, the objectives of this study are (1) to develop and evaluate a site-specific, bottom-up and forward-looking method for exploring smallholder farmers´ adaptation to climate change with a mixed-method approach and a large sample size; and (2) to empirically assess smallholder farmers ´ adaptation and its determinants in a case study. While processes of farmers´ adaptation to climatic stimuli are clearly bound to spatial and temporal conditions, this study assumes that there exist underlying generic drivers of individual adaptation behavior and that farmers´ historic adaptation to climate variability and change is an acceptable second-best option to analyze their response to future climate change. In order to fulfill the research objectives, quantitative and qualitative data were collected at the hausehold and the village level. Morogoro Region, located in central-eastern Tanzania, was selected as the case study area because of its documented vulnerability to climate change and because results of this area were expected to be interesting in a broader perspective. Based on a critical review of literature from social science and development economics, a climate change response framework was developed and variables hypothesized to influence farmers´ adaptation were identified.

Furthermore, an index-based approach to measure farmers´ adaptedness was developed, the activity-based adaptation index (AAI).The data was analyzed using factor analysis, multiple linear regression, descriptive statistical methods and qualitative content analysis. The econometric analysis was undertaken in two steps, first a multiple linear regression analysis with original predictor variables was conducted, which was followed by the combination of a factor analysis with a regression analysis based on latent variables. The empirical results are discussed in the context of theoretical concepts of adaptation and the sustainable livelihood approach. The results of this study indicate that farmers´ adaptation to climate change is determined by four factors, namely the production potential of the area, the availability of productive inputs, the socio-economic status of the household, and farmers´ social and financial capital. Both, the factor analysis and the regression analysis with original variables reveal a similar structure of these determinants, highlighting the stability of the results.

Furthermore, this study identified 33 practices potentially suitable for adaptation to climate change and currently used among Morogoro´s smallholder farmers. From a methodological perspective it was found important to involve Stakeholders with local knowledge in the assessment because successful agricultural adaptation requires information about site-specific capacities and constraints. This study has two major conclusions. First, the mixed-method bottom-up approach of this study is a promising way to capture the complexity of adaptation processes, and to address a number of shortcomings of previous assessments. The approach circumvents the uncertainties associated with top-down impact assessments by introducing farmers´ knowledge into the analysis. Additionally, it reduces the risk of wrongly specified weights of traditional index studies by using indicating variables that are relatively easy to assess for local stakeholders.

Second, the determinants of farmers´ adaptation identified in this study add empirical foundation to the mostly argumentative existing literature. While none of the determinants themselves are completely new, the specific contribution of this study is to confirm the influence with a quantitative approach and a rigorous econometric analysis.